AltiGen Communications VoIP Phone Systems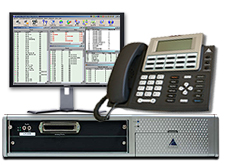 Like the computing industry, the communications industry is finally shifting from proprietary hardware to a software-centric model. Most VoIP system manufacturers still deliver features on proprietary hardware devices. But with today's powerful computer servers, system redundancy and virtualization, proprietary hardware is no longer required.
With AltiGen's MaxCommunications Server (MAXCS), the world's most widely deployed 100% Microsoft-based IP Telephony system, customers can leverage their current and future investments in their IT infrastructure with a complete, all software VoIP communications solution. MAXCS offers significant advantages over traditional proprietary hardware systems, including deployment on standard Intel rack mount or blade servers and integrating with your Microsoft infrastructure environment including Exchange, Outlook, and Lync.

Phone System Features
Advanced Call Routing
Call Recording
Windows Soft Phone Client
Call Center Agent Client
Supervisor Client
Windows Admin Client
Operator Console
API / SDK
IP Audio Conference Bridge
Mobile Communications
Multi-Site Manager
THE COMPLETE MICROSOFT-BASED UNIFIED COMMUNICATIONS SOLUTION


Ask ten vendors and you'll likely get ten different definitions of Unified Communications. Ask them if their Unified Communications solution is dependent upon 3rd party OEM relationships and marketing alliances. Ask them how mobile communications is integrated into their solution. And ask them if their solution is integrated with the world's most popular email platform, Microsoft Exchange Server – without a requirement for 3rd party gateways. Finally, ask them how they integrate with Microsoft Office Communications Server and if that integration has been certified by Microsoft. In most cases you'll find that their Unified Communications story is not so unified.